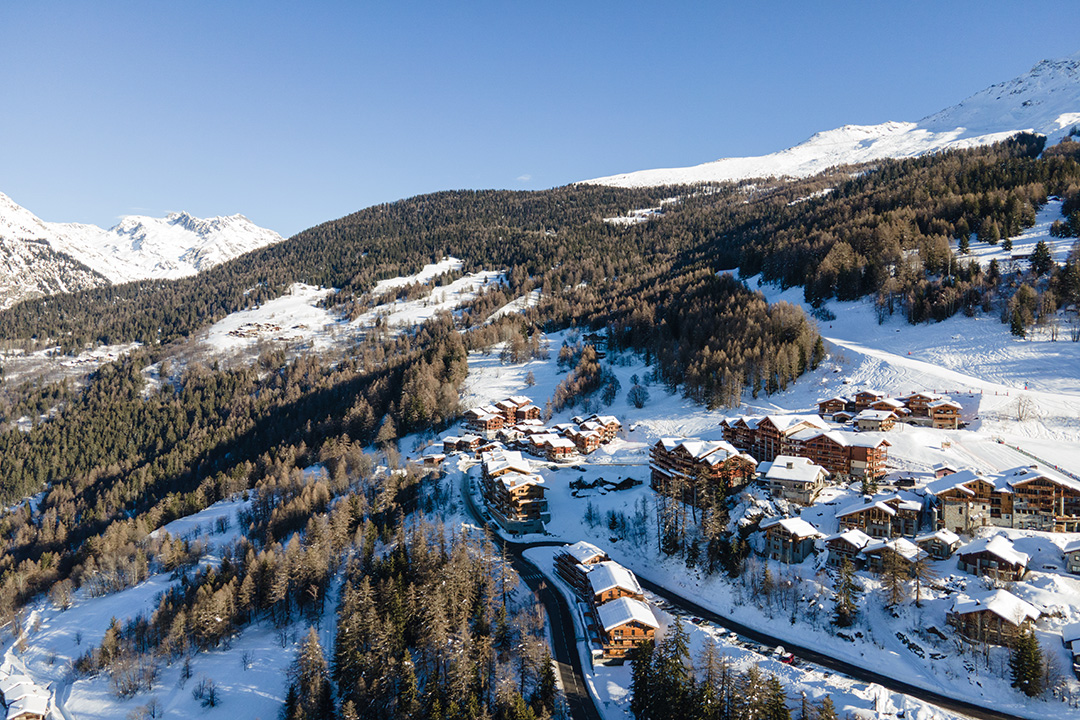 12 February 2022
They have the wind in their sails… Village resorts have become the new real estate trend in a short time.
La crise sanitaire que nous avons connu a fortement impacté les mentalités, mais aussi les envies des Français. Between nature,
back to basics and new landscapes, many are the new expectations that village resorts meet.
Often high up, they are distinguished by their charm and authenticity, thus attracting new owners in search of tranquillity.
Main player in construction and rental management in the mountains,
Terrésens The Group is working to develop residential projects in strategic locations,
while ensuring that the local heritage in which the Group operates is preserved.
Here is a short guide to the village resorts in which Terrésens is developing its residences.
The Mont Blanc region
A thousand-year-old natural valley on the borders of Savoie and Haute-Savoie, the Mont Blanc region is full of hidden treasures.
Composed of a multitude of village resorts, it is the perfect example of the Savoyard art of living, where tradition and tourism are combined.
and tourist stays!
Megève
In the heart of the Mont Blanc region, the resort of Megève offers an exceptional view.
Initially a peaceful farming village, Megève has become over the years an unmissable ski resort. This meteoric rise is partly due to the famous
This meteoric rise is partly due to the famous Rothschild family, who for more than 100 years, allowed the village to boost its image as well as its tourism. Gastronomy,
luxury hotels and shopping will be the order of the day in this jet-setting village.
Winter activities will please everyone: downhill skiing, snowshoeing, dog sledding, ice skating, cross-country skiing, etc,
as well as the summer activities offered by the resort: golf, hiking, summer sledging, tennis, fishing, mountain biking, etc.
The residence L'Altima, composed of 168 flats ranging from studios to T6,
offers top-of-the-range services such as service and management, concierge service, swimming pool, wellness area (hammam, jacuzzi, sauna) etc.
Combloux
Combloux is a small, quiet resort with an exceptional view of Mont Blanc, also called the
Pearl of Mont Blanc. It is one of those must-see resorts that offers an ideal geographical location, close to the slopes and with breathtaking mountain views.
close to the slopes and with breathtaking views of the mountains. It belongs to
the Évasion Mont-Blanc ski area which allows ski addicts to accumulate kilometres of piste, and to the
Portes du Mont-Blanc,
which is more economical but just as enjoyable for skiing. The 100 kilometres of slopes offer an impeccable quality of skiing with
Mont Blanc as a backdrop. It is a small and friendly resort, but it has a good infrastructure and lift park.
Many activities are available in winter and summer: ice climbing, sledging, snowmobiling,
paragliding, hot air ballooning, hiking trails, mountain biking etc..
Les Roches Blanches has a breathtaking view of Mont Blanc
in the heart of a natural environment and offer 116 flats from T2 cabins to T5 duplexes. This new residence is synonymous with modernity
where mountain holidays are reinvented.
Saint-Gervais-Mont-Blanc (soon)
Located at the foot of Mont Blanc, the village resort of
Saint-Gervais-Mont-Blanc
offers a multitude of surprises to those who pass through here. A true 4-season resort, it is a must-see destination in Haute-Savoie.
In winter, its 500km of slopes spread over two areas allow you to practice downhill skiing, ski touring and snowshoeing; in summer, climbing, swimming, tennis and hiking are all part of the experience,
In summer, climbing, swimming, tennis and hiking make Saint-Gervais-Mont-Blanc the ideal playground for thrill seekers.
Renowned for its ideal location, it has natural thermal baths in a 10-hectare park, offering health care and
and medical treatments. Come to the Mont Blanc Spa with your family or friends for a unique sensory experience!
The resort-village also puts culture in the spotlight throughout the year. Whether it is a question of shows
exhibitions or sports events, this place is not short of all kinds of entertainment!
La Tarentaise
The Tarentaise is known for its winding roads, leading to famous ski resorts (Courchevel, Val Thorens, etc.),
in the heart of the Vanoise Natural Park, offering landscapes of natural beauty. White water, green pastures and coniferous forests give it a wild beauty and
beauty and exceptional panoramas. The region alternates between valleys and high mountains with glaciers.
Sunny in the summer and snowy in the winter, the Tarentaise region hides many treasures: charming old houses, typical chalets scattered around, baroque heritage influenced by nearby Italy, small perched villages,
typical scattered chalets, baroque heritage influenced by nearby Italy, small perched villages… The Tarentaise, with its
traditions of villages and hamlets, picturesque architecture and agriculture, is a real success story in the region!
Sainte-Foy-Tarentaise
Located on the Bonconseil plateau, the resort of
Sainte-Foy-Tarentaise
is a unique, secret and traditional place, where winter sports meet a generous nature,
a village on a human scale where you know your neighbours…
Away from the hustle and bustle of the big resorts, the village resort of Sainte-Foy-Tarentaise is located in
natural environment. Rich in a heritage of traditional buildings, including villages, pillar houses, chapels and chalets,
all made of stone, wood and laurel, there is a real atmosphere of mountain life.
The ski resort of Sainte-Foy-Tarentaise is nestled in the woods and known to a few. It is a must-see destination for all off-piste skiers,
the resort extends beyond its ski area with its 23 runs, served by 6 lifts, numerous forest routes and secret
secret ski runs.
The new residence
Le Spot, ideally located in this village resort, offers access to all the local shops in a few minutes and includes flats from T2 to T5.
La Plagne Montalbert
The vast territory of La Plagne stretches across
11 villages, each with its own specificities.
La Plagne Montalbert is well known for its warmth.
During your stay, you can experience this tradition of hospitality. The décor is not to be outdone: mountain architecture, views of Mont Blanc,
snow-covered fir trees… the ideal place to spend a wonderful holiday! To let go and recharge your batteries, you will enjoy dazzling natural discoveries
along wooded or high altitude paths in summer or winter, with snowshoes, cross-country skis, ski touring, mountain bikes or walking shoes
depending on the season… If you are looking for adventure and entertainment, everything is planned to make your holiday unforgettable. On the programme
The little plus of the station: The centre is reserved for pedestrians, and cars can park in a large car park at the entrance.
parking at the entrance. You can therefore breathe and appreciate this village on a human scale.
The new residence The Snoroc is perfectly located in the heart of the lively village resort and offers 65 properties ranging from
village resort and offers 65 properties ranging from T1 cabins to T4 apartments.
Champagny-en-Vanoise
The village consists of a hamlet of traditional houses (made of wood and stone), transformed into a winter sports resort
just 50 years ago. You will discover the charm of the village, its baroque churches and narrow streets with chapels. Located in the heart of
of the Vanoise Park, it is the oldest French national park, created in 1963 with the aim of preserving the endemic animal species of the Alps.
Champagny-en-Vanoise
is a lively village, always on the move. The site offers many events and activities in all fields.
Every season, the site hosts numerous sporting events: ice climbing championships, Nordic derbies, trail running
marathons, etc. Other activities take place in winter as well as in summer, such as: orienteering, obstacle courses, film screenings, children's shows, open-air concerts, etc,
children's shows, open-air concerts, family challenges… In summer, the festivals are a great opportunity to meet the local people.
This way, you will discover the habits and customs of the local people, without forgetting to taste the local specialities.
The residence l'Étoile de la Vanoise has 39 flats ranging from 2 to 5 rooms
and offers an exceptional view of the mountains.
Peisey-Vallandry
Peisey-Vallandry is made up of 2 high altitude resorts: Plan Peisey (1650m) created in 1963 and the integrated Vallandry resort inaugurated in 1986.
A dynamic winter and summer sports destination at the heart of the
Paradiskiski area, Peisey-Vallandry is part of the privileged circle of very large interconnected areas. Under a blanket of white,
you will discover 425km of slopes thanks to the ultra-modern cable car, the Vanoise Express, linking Les Arcs and La Plagne
via Peisey-Vallandry. In summer, many hikes are possible in the Vanoise National Park or mountain biking
in the spruce and larch forests. These sumptuous landscapes will make you spend unforgettable moments facing the panorama of Mont Blanc,
Beaufortain and Tarentaise for all nature lovers!
The residence Le Quartz, with its modern architecture, consists of 23
flats from 2 to 7 rooms. It promises privacy thanks to its raised terraces, staggered from one another.
Large openings have been designed to provide an unobstructed view of the surrounding landscape.
Categorised in: Lifestyle, Uncategorized