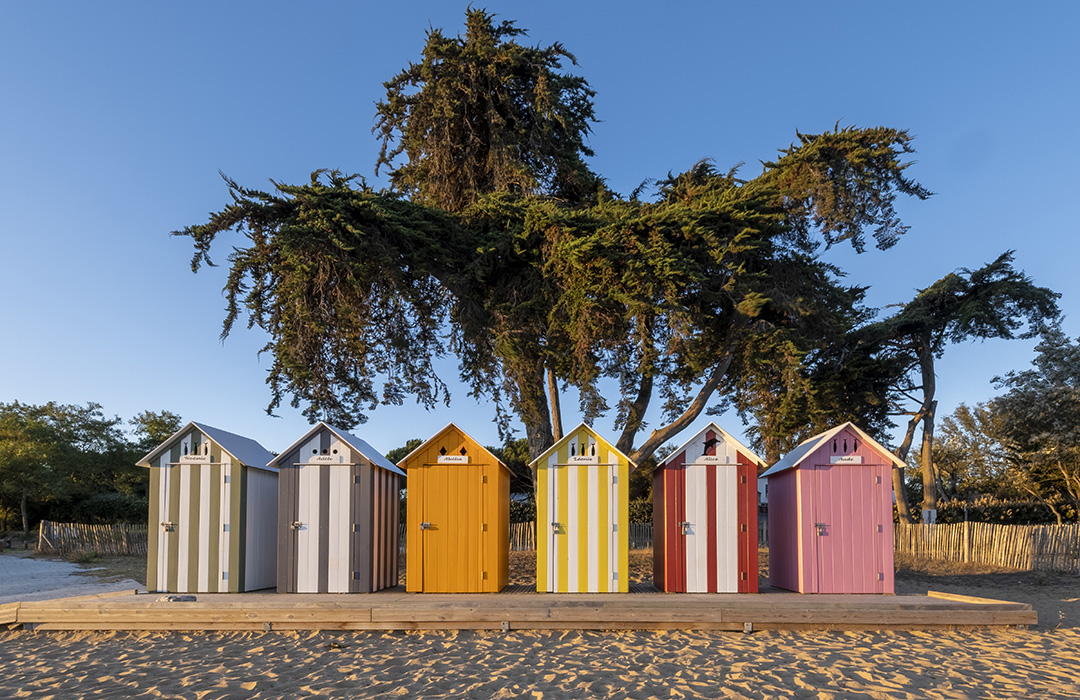 27 April 2022
At the helm of Terrésens Atlantique, a new subsidiary of the Terrésens group, we find Olivier Brevière (CEO) and Xavier Chabod (Director, Western France), who discuss the development of prestigious tourist complexes on the 3,200-kilometre French coast running from Hendaye near the Spanish border to Le Touquet in Picardy. A voyage of discovery that takes in Saint-Pierre-d'Oléron south of La Rochelle, Hourton near Bordeaux, and Saint-Brévin-Les-Pins, where the Loire flows into the ocean …
What is the story behind Terrésens Atlantique?
Xavier: It all began when Olivier Brevière and Eric Pajot, partners at Cap Development, met with Géraud Cornillon, the President of the Terrésens group. We shared a common understanding of how tourist models are developing, a deep love of the French coastline and a strong desire to work in that area.
I should add that Géraud is truly visionary in the tourist property field – he anticipated the urgent need to revisit the Tourist Complex model ten years ahead of the game.
The outcome? Terrésens is now a pioneer in quality tourist developments in the Alps and Portugal. It was the Comporta success story in Portugal that inspired Géraud to set up on the Atlantic Coast.
In short, a casual conversation two years ago transformed into a period of consideration and then the dream became a reality in July 2021, with the foundation of Terrésens Atlantique. The company is a subsidiary of Terrésens and was created by the Terrésens group and Cap Développement. Its remit is the entire 3,200-kilometre French Atlantic coast, from Hendaye by the Spanish border to Le Touquet in Picardy.
Could you introduce the team?
Olivier: There are currently four of us based in the west of France, one based in each of Bordeaux, Nantes, Rennes and Sables d'Olonne. There are two more people at the Terrésens head offices, and, of course, all the support departments based in Lyon. The management team is Xavier Chabod, Eric Pajot and me, and we have complementary areas of expertise.
Xavier handles business development, Eric manages technical and operational aspects, while I work on development and project development. We are constantly exchanging ideas with the aim of learning from each other and improving our understanding of the scope and specificities of each other's professions.
Xavier lives in Rennes, and he knows the Brittany and Normandy coast very well. His expertise lies in marketing tourist apartment complexes, but he has stepped out of his comfort zone brilliantly to spend part of his time on development.
What unites people from such different backgrounds?
Xavier: There is a significant emotional connection, we share a common approach to people and events, so we are always able to find a compromise. The challenge? Reconciling technical, legal and planning limitations with our operational and business development needs. I must say that Olivier is a master in the art of consensus. He has a very calming personality!
Tell us about the objectives of Terrésens Atlantique
Olivier: Quantitative objectives are not our priority. The vocation of Terrésens is 'to create developments that have meaning on the ground', so we are aligned with sustainable development. This approach means that we are not just another property developer who wants to get the thing built.
We are tourist operators first and foremost, and we are committed to our projects in the long-term, so our developments are structured. We create direct and indirect employment within local communities, who also benefit from the tourist tax, and we have a European reputation thanks to our international partnerships with Tour Operators and Online Tourism Agencies.
Our residential tourist complexes respect the needs of local elected representatives. We aim to be completely transparent with local communities and to build links with them, including partnerships with local businesses, such as restaurant owners, bakeries and cultural and sports service providers. We systematically choose our partners from the local area.
In order to fulfil our objectives, we need to select prestigious sites that correspond to the group's identity. The sites of our future residential tourist complexes are all approved by Géraud Cornillon, the CEO, and they have to be unique and put the client experience first. They have to kindle an irresistible urge in people to visit and then go back again and again!
What key criteria make a site prestigious?
Olivier and Xavier: The beach has to be within walking distance, and the surroundings have to be exceptional. It has to be calm and create a feeling of getting away from it all, while remaining close enough to local shops and services for us to create a synergy between the apartment complex and local businesses. That synergy is why we have chosen certain urban regeneration sites, notably on the île d'Oléron, where Terrésens Atlantique has applied for a building permit to create a development on the site of a former fish cannery in the centre of the town of Saint Pierre.
Could you tell us about the future Terrésens Atlantique tourist complexes, starting with Saint-Pierre-d'Oléron in Charente Maritime?
Olivier: Our most advanced development is in Saint-Pierre d'Oléron, on the small island south of La Rochelle. The town has 'Terres de Jeux' sports certification and has been selected as a preparation centre for six disciplines for the 2024 Olympic games. The Terrésens residential tourist complex in Saint-Pierre-d'Oléron is located in the middle of the island, so you can visit somewhere new every day, discovering new beaches by bicycle.
Located just a short walk from the cinema, bars and shops in a lively town dedicated to 'sports and nature', we have built an apartment complex with an intimate feel. It is laid out over three floors and contains 44 apartments from studios to 3 and 4 bedroom flats and underground parking spaces. We are also renovating a former bourgeois house to create the reception, heated indoor pool, spa, steam room, sauna and beauty and well-being treatment cubicles.
What is the commercialisation timeline?
Xavier: We should begin marketing the complex in summer 2022, when the general outdoor areas are created, including terraces, balconies and gardens. The white cladding on the building exteriors and the coloured shutters will adhere to the architectural identity of Marennes-Orléons country, in line with Géraud Cornillon's desire to provide clients with a heritage and architecture experience specific to the locality.
Could you tell us about Hourtin, not far from Bordeaux in Gironde county?
Olivier: Terrésens is creating a prestige residential tourist complex on the waterfront at the Hourtin lake, one of the largest in France (15 km long). It will be located in the middle of a remarkable natural environment. We applied for a building permit at the beginning of 2022 to create a new generation residential tourist complex opening onto several lakefront beaches. Hourtin is an important kitesurfing site in the Gironde and is also on the Vélodyssée cycling route from Brittany, which runs along the Atlantic to the Basque coast.
The complex is nestled in its own 3-hectare park, open only to green modes of transport. It consists of fifty houses and sixty apartments with access to a heated swimming pool with spa, mineral spa therapy, and a children's playroom. Beach volleyball courts, BMX and skate parks, tennis courts and a horse-riding centre are just a few examples of the array of sports facilities in this mecca for windsurfing, kayaking, paddleboarding and sailing.
What about Saint-Brévin-Les-Pins in Loire-Atlantique?
Olivier and Xavier: The Terrésens apartment complex is a superb 'urban' pine forest just an hour from Nantes. The architectural style is a blend of the seaside and Art Deco styles typical of the famous Saint-Brévin-l'Océan seaside resort on the Jade Coast. The complex is just a short walk from the beach, casino, shops and restaurants. So, everything is accessible on foot or by bike.
The small 3-floor buildings hidden in the woods contain studio to 5-room apartments. We have also preserved a historical house within the complex, which will playfully integrate architectural elements inspired by the local seaside resort: tiled roofs, cut stone quoins on the corners, decorative running trim, projecting roofs, and a subtle interplay of colours and nuances in the cladding…
Are you planning any other developments?
Olivier and Xavier: Terrésens Atlantique is working on a new concept: 'Family Homes by Terrésens'. The three key qualities – generous spaces in exceptional locations with remarkable, high quality environments – will make the houses wonderful places to meet with groups of friends, blended families or more traditional families. The addition of a concierge service means that all you have to do when you arrive is relax! We are currently studying a site in the Loire Valley, close to a superb golf course.
Do you have a message for local elected representatives?
Olivier and Xavier: Terrésens Atlantique's teams would love to hear from communities keen to develop luxury tourist establishments, which stay open all year. We are looking for prime locations on the coast, where the site and the environment contribute to the exclusive nature of the client experience.
We are able to build on land set aside for hotels, or re-build and renovate old holiday centres or campsites, or transform holiday camps, or brownfield military and hospital sites.
Terrésens remains fully committed to local areas in the long term, creating jobs and building up relationships with local sports and culture businesses and service providers. Terrésens residential tourist complexes are lively places that forge links with local communities. The last two years have heightened a general desire to spend time with the family, enjoying the coast in prestigious surroundings.
Our complexes operate year-round and are suitable for distance workers who travel with holidaying families. They are perfectly suited to an international clientele, which travels extensively and favours intimate, personalised and beautifully decorated spaces.
Terrésens has created a successful blend of the best offered by hotels, tourist complexes and Airbnb, which has made the Terrésens residential tourist complexes a triumph. We have created a cross-over, hybrid product that is easy boast about. We believe in it. There is a genuine need for regeneration on the French coast!
Interview by Jocelyne Vidal
Categorised in: Interviews